The best HubSpot Email Template is here
If you are looking for a collection of HubSpot Email Templates to take your email marketing game to the next level in 2023, search no more. Elements HubSpot Email Template Pack by InboundElements is here.
After doing HubSpot design & development work for over 25 companies, we discovered that email marketing was one of the most important growth factors for most companies and startups, and yet, a lot of companies struggled a lot with it.
The struggle was mostly because of how complicated it was to create effective emails, and that's why we created Elements, a HubSpot Email Pack with 31 email newsletters for all use cases, so you can have any email sequence up and running in no time.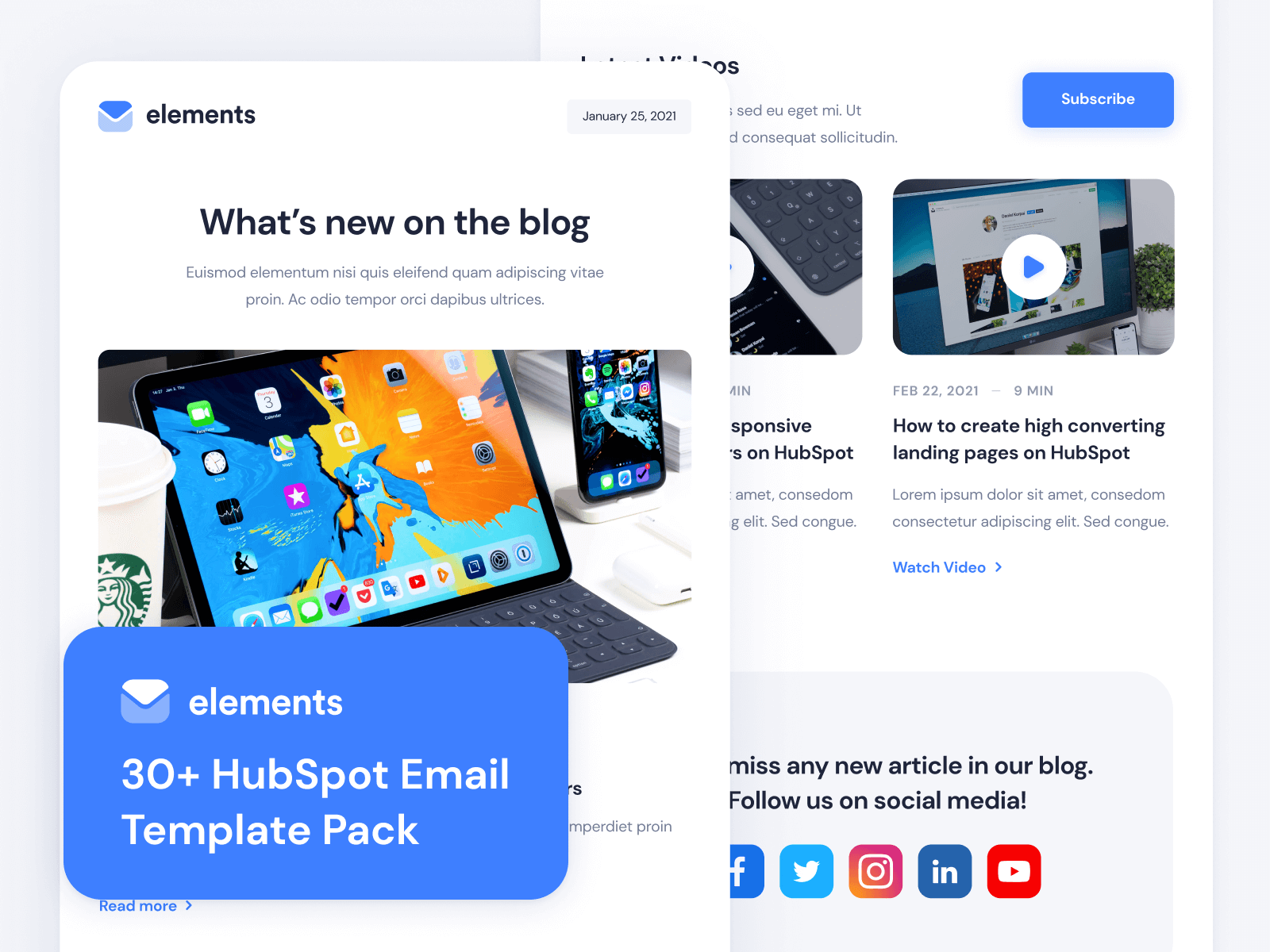 Elements – HubSpot Email Newsletter Template – Features
Modern & Premium Design: Elements HubSpot Email Template was designed following the latest design trends of 2023. Thanks to it's modern and premium design, so you will impress your users with every email you send.
Email Client Compatibility: Don't worry anymore of email compatibility. Elements was tested on all popular email clients (including Gmail, Outlook, iOS Mail, Android Mail, and many many more) to ensure it works great on all of them.
Perfect Responsive: In 2023 over half of all emails are opened via mobile, and that's why Elements was optimized even to the smallest detail, so your users can browse your emails perfectly no matter if they are on iPhone or Android.
‍100% Customizable: All templates in the Elements HubSpot Email Pack are 100% customizable, so you can easily edit their colors, images, or just any other content to match your business needs and fit your brand style guide.
Easily Editable: Easily edit any of the templates from the Elements Template Pack directly from the HubSpot Email Editor. There is no need to learn HTML/CSS. With our templates, edit directly from HubSpot with no code.
‍Bundle Pricing: Save more than $400 USD by purchasing our bundle of Elements Email Pack. If you purchase each of the templates separately, the total cost is over $1,000 USD.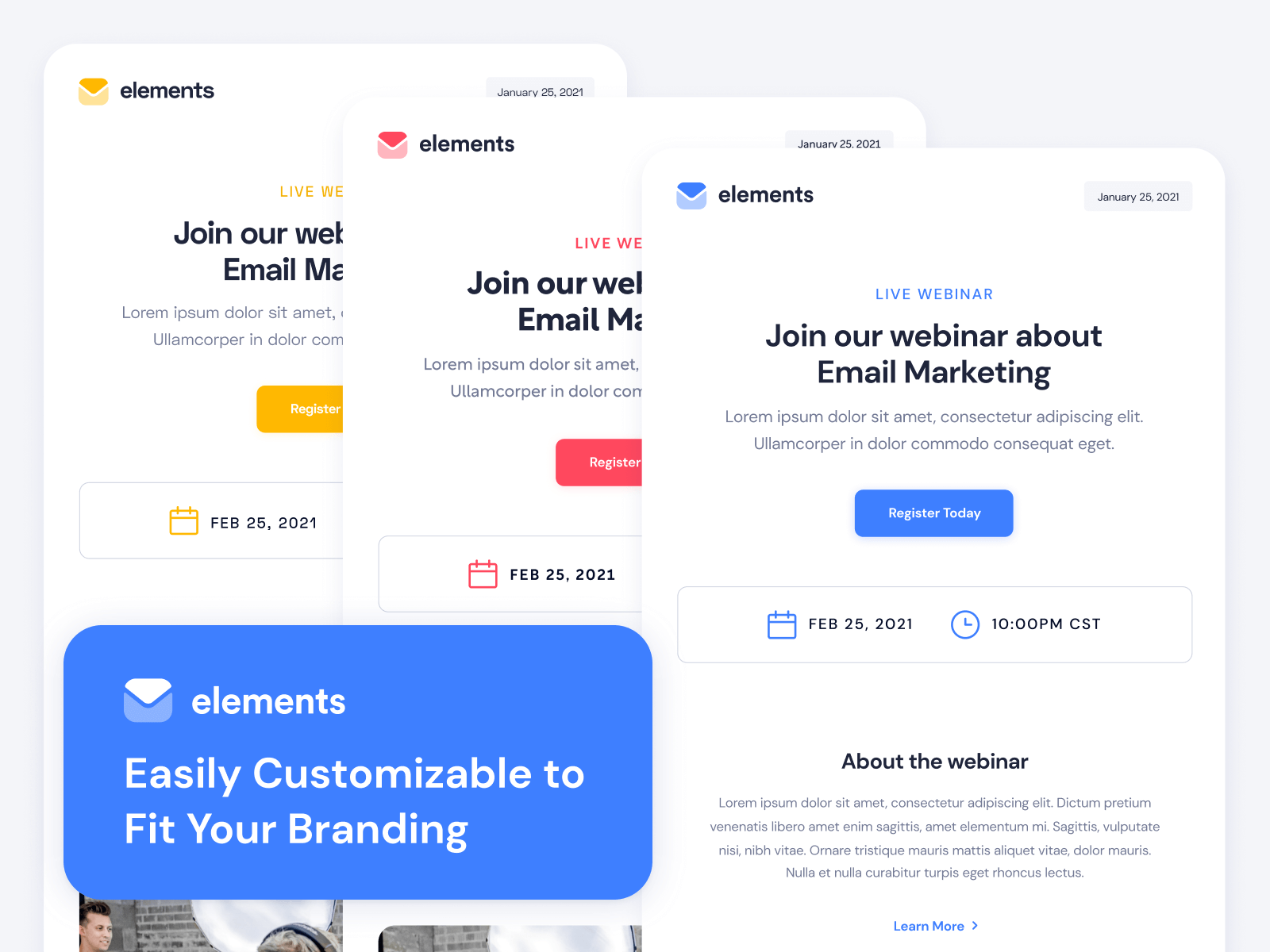 Elements – HubSpot Email Template – Templates
Company Newsletter v1
Company Newsletter v2
Company Newsletter v3
Blog Newsletter v1
Blog Newsletter v2
Blog Newsletter v3
New Article Newsletter
About Us Newsletter
Conference
Webinar v1
Webinar v2
Live Streaming
Jobs
eCommerce v1
eCommerce v2
Video Newsletter
eBook v1
eBook v2
Whitepaper
B2B Sales Pitch
Coming Soon
App Download
Simple Email
Product Update
Welcome Email
Unsubscribe Email
Special Discount
Refer a Friend
Course Promo
Christmas Greeting
Thanks for Subscribing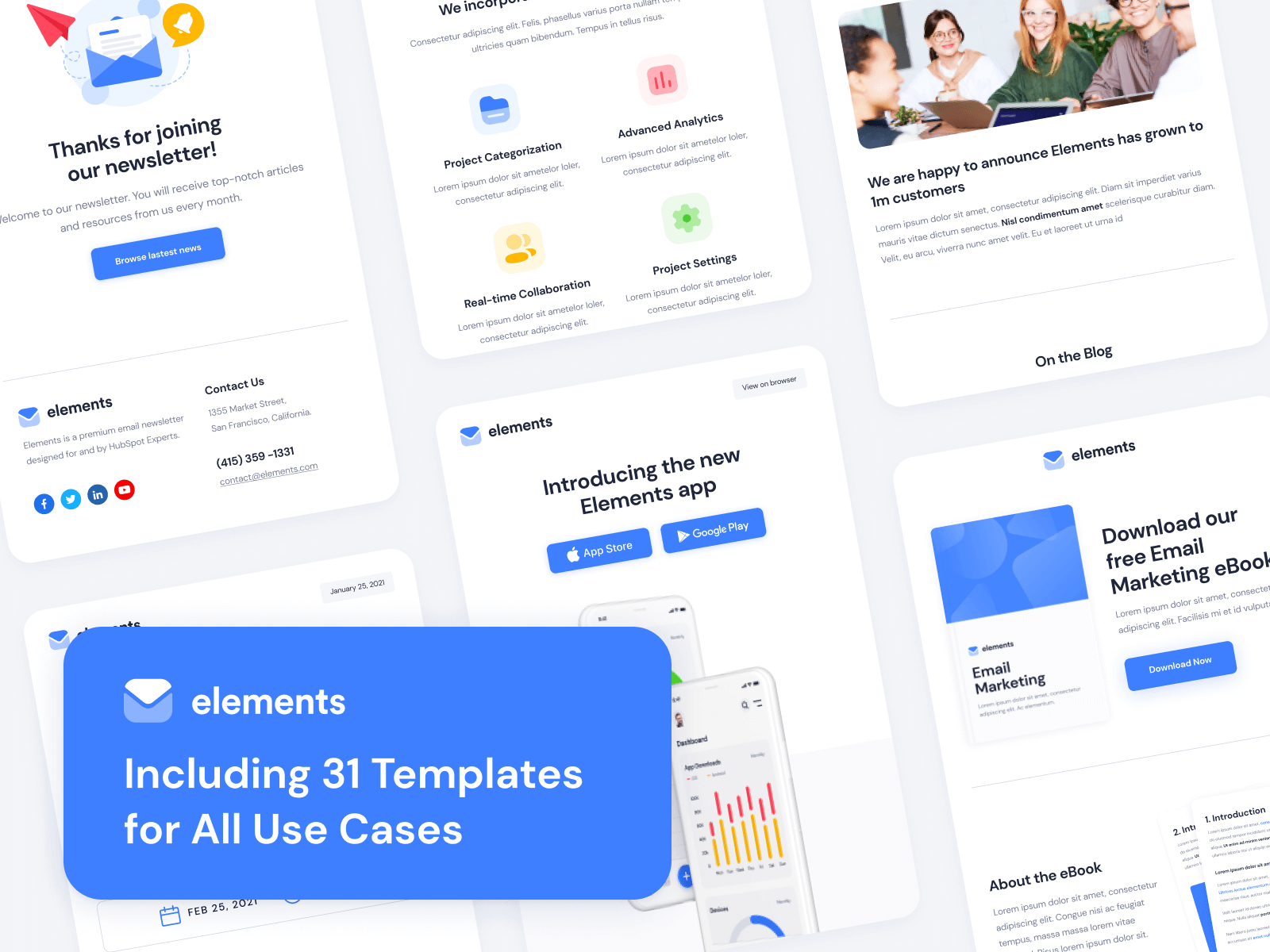 Elements – HubSpot Email Template Pack – Support
Elements HubSpot Email Template Pack was designed & developed to be very easily editable by you and your team, so you will be surprised of how easy it is to customize it. However, if you ever have any questions, find a bug in any of the templates, or just have any other kind of problem, our team of HubSpot Experts is always available at support@inboundelements.com – We will be happy to help you!
However, if you ever feel that you need advanced help to customize Elements Templates to your company needs, or just build any other custom HubSpot email newsletters, feel free to get in touch with our HubSpot Agency. Our team of experts will be ready to assist you.